Today, we explore the world of platform businesses, how they work, different types, what makes them tick and how they can benefit your business.
To better understand platform businesses, we need to know how they differ from traditional organisations.
Traditional business
Traditional organisations tend to be quite linear in their purpose and how they resource, build, ship and sell value.

Keeping it simple, they acquire raw materials or components that are worked through a transformation process to create a product or service to be sold to their customers.
Traditional start-up models tend to prefer selling directly through their website as they focus on gaining market fit.
Over time, they develop a taste to expand their reach, often needing to employ:
More aggressive marketing reach programs, using affiliate programs,
3-Tier (Vendor > Distributor > Reseller > End Customer) or
2-Tier (Vendor > Reseller > End Customer) distribution models.
These are all great. As the business grows, horizons and investor confidence increases too. New opportunities start to emerge around:
Building additional complementary products/services.
Developing new strategic partnerships.
Acquiring complementary businesses or capabilities to sell to the existing customer base.
This is also generally the stage where you start to distinguish between the value of your business assets clearly:

These business assets can be of great interest to develop depending on your growth or exit strategy.
Assuming you want to sell your company, there may be several reasons that your business would be attractive to them:
Your products and capabilities enable them to save the time and money needed to realise the necessary capabilities from scratch.
The go-to-market engines you built around lead generation, lead nurturing, lead management, channel engagement, channel management, purchasing structures, training & support structures etc. offer interesting value-add to their business asset
Your overall ability and playbook to operate the business, make your brand the name of choice for people seeking services within your space. Your processes and customer service playbooks can be integrated to increase retention by driving higher customer value across their portfolio (e.g. Zappos being acquired by Amazon for $1.2 billion in 2009).
Platform business
Platform businesses can be imagined as traditional companies that decided to focus all of their attention on increasing the value of their value-chain asset.
Platform businesses live between "consumers with pain points/needs" and "providers of value".
Bar some exceptions; most platform businesses evolve from the capabilities built when they were traditional organisations. They realise they became very good at some key operations and quickly learn that these capabilities can be leveraged as a unique selling point (USP) to simplify the route consumers connect with solutions.
Platform businesses can be pretty specific in nature or generic, facilitating how products, services and information can be found and engaged.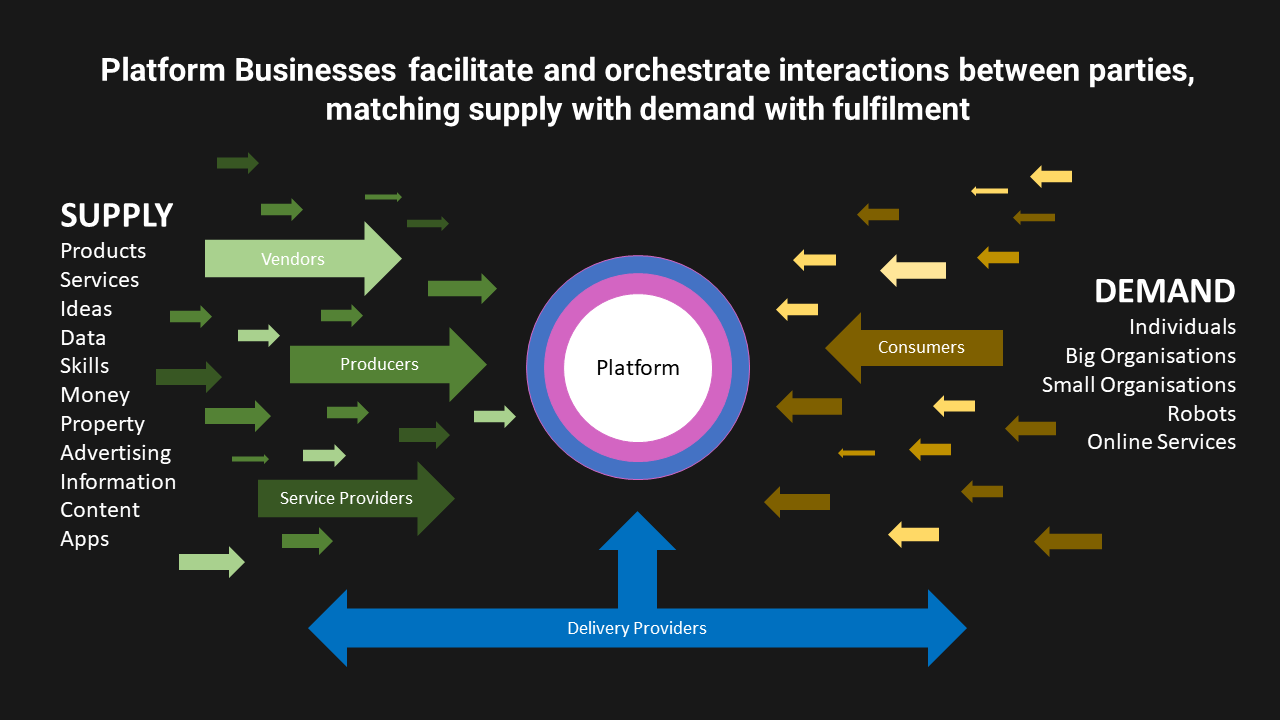 Using some examples:
| | |
| --- | --- |
| Procter & Gamble | Global distribution of personal care, consumer health, and hygiene products across several vertical areas, e.g., beauty, grooming, baby, feminine, and family care. At some point it also included food, snacks and beverage products. |
| Retail Malls | Providing space that links buyers to products such as clothing, home goods, gadgets, and shoes being sold by merchants. |
| Amazon | Connecting consumers to vendors, and streamlining key processes of ordering, support, shipping and logistics, handling of returns etc. |
| Lyft | Connecting riders to a range of transportation options (e.g. cars, scooters, bikes), using technology to make it easy to discover options, agree on location of pickup and return, payments etc. |
| Uber eats | Connecting hungry customers or customers needing a delivery of nourishment or supplies to a supplier that is willing to deliver the required goods at an agreed location convenient to the customers. |
| Airbnb | Connecting dwellings, flats, and unused spaces available from property owners to travellers seeking a place to stay. |
| Medium, Substack | Connecting content from individuals and freelance writers and making that content easy to be found and consumed to a reader audience that is willing to subscribe and pay for that type of content. |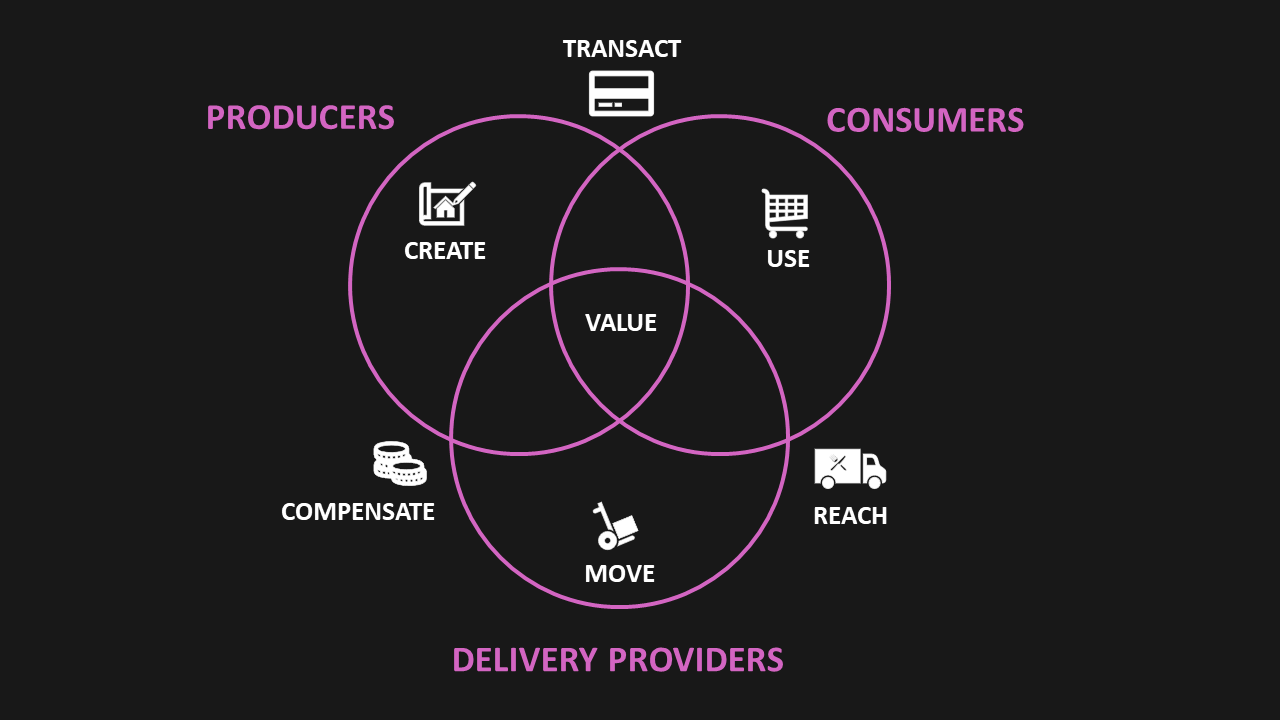 Analysing what all of these platform businesses have in common:
They built a well-defined multi-brand and multi-product marketing and distribution engine.
They can take onboard any "productised" licensed/sold product or service offering operating within a clear set of parameters.
Onboarded products can be made available to transact to partners, customers and global distribution networks global, swiftly with limited cost and incredibly speedy returns.
You may also have noticed that none of them owns the product(s) shipped or provided through their pipeline/network.
Remember the three assets of a business (Core Products, Value Chain and Organisation). Platform businesses go all-in to develop their Value Chain as their product. The risk of building the products they make available, supporting the products, maintaining the products are all on the suppliers/vendors shipping solutions through their pipelines.
For you, this means that platform companies tend to be product agnostic as long as the product or service meets a limited set of parameters in line with the purpose of the business mandate. Platform businesses:
Focus heavily on evolving their ability to optimise the processes of their value chain business asset, and what makes it successful,
Partner with strategic companies to create the products they distribute, logistics, supply and the customer.

Modern platform businesses like Amazon, Lyft, Uber have taken this model to the limit and built complete digital businesses around these principles. They use technology (e.g. iOS or Android mobile apps) and use specialised technology components (e.g. mobile tech, GPS systems, payment systems, cloud storage, data analytics and more) to
Connect their users (customers, e.g. hungry eaters)  with a range of potential suppliers of solutions (e.g.  restaurants), allowing them to browse for options, order, track, rate and share experiences.
Capture the need to fulfil the delivery of the necessary items
Engage a set of delivery partners (e.g. UPS, FedEx, Wolt, Bolt, or individual contractors acting as a delivery partner) to interface between the Consumers and the Providers.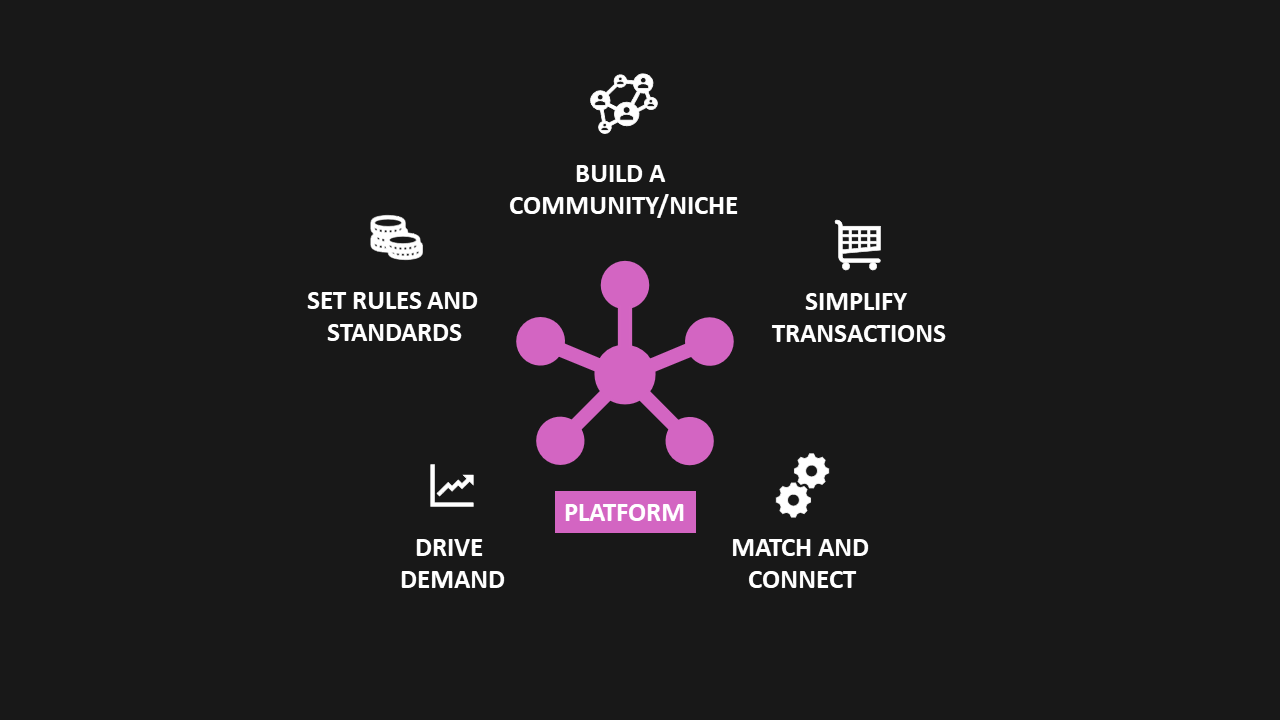 All platform businesses evolve their ability to build a network of consumers and suppliers, with modern platform businesses also connecting delivery partners in the mix.
They act as a conduit or pipeline that connects them. They act as a modern value delivery device to the benefit of all stakeholders.
As a digital business, they would then use the information centralised in the behaviours of their stakeholders to create differentiating strategies:
Determine commission strategies
Establish minimum fees or special handling fees (e.g. late hour etc.)
Drive promotions and demand strategies
Identify new ventures and opportunities for investment
1+1 = 3
Platform businesses offer traditional businesses a great partnership model on which to build success.
They remove the guesswork on what needs to be done to make products and services of interest findable and purchasable.
Using an example, if your products meet the criteria required by the Amazon rules, you can swiftly create a merchant relationship with them to load your products (digital or physical) onto their regional web stores and start selling without needing to further invest in payment systems, or learn complex logistic strategies.
Using another example, if you are an individual seeking to earn some extra cash, you can swiftly join the Uber/Lyft driver network. Without handling marketing or other complex customer dealings, you are presented quickly with a stream of customer leads waiting to be helped with your diligent driving skills.
Platforms are the key to creating a centralised home base for delivering products or services that fit a pre-agreed format.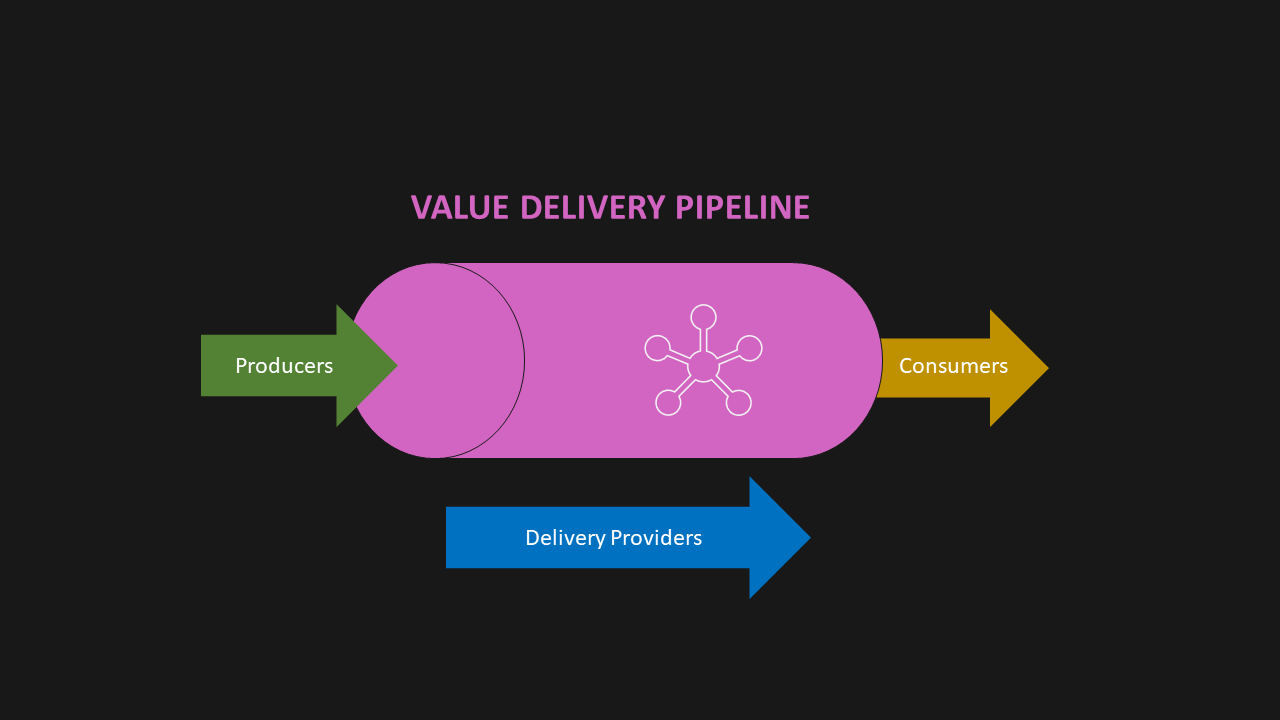 By leveraging their strengths and focusing on developing a high-performance value-chain system, platform businesses can:
Grow faster and scale better, as they are in the business of building great, efficient and easy-to-transact value delivery pipelines.
Onboard new vendors and service providers effectively and efficiently.
Build communities that rally around the value made available by the platform network.
Focus their purpose on solving for connectivity, transaction and world-class efficiency.
Modern platform businesses as functional marketplaces
By observing modern platform businesses such as Amazon, Lyft, Uber, Airbnb, LinkedIn, Medium, Substack etc. etc. we can see four main categories of platform models:
Transaction platforms – sitting in between different users, buyers and suppliers acting as an intermediary to facilitate payments (e.g. Stripe).
Innovation platforms – leveraging technology and digital to act as a foundation on which other companies can build alternative modern capabilities, products or services (e.g. Palantir).
Integrated platforms – Typically distinguished by a technology solution at its heart, working as a transaction intermediary and innovation platform itself (e.g. social platforms acting as informational sources while promoting retail and hiring experiences).
Investment platforms – Acting as holding businesses to promote a verticalised product portfolio strategy (e.g. Salesforce as a provider of customer relationships solutions, while also providing a complementary suite of enterprise applications focused on customer service like Slack.
Some additional examples for Transaction and Innovation platforms: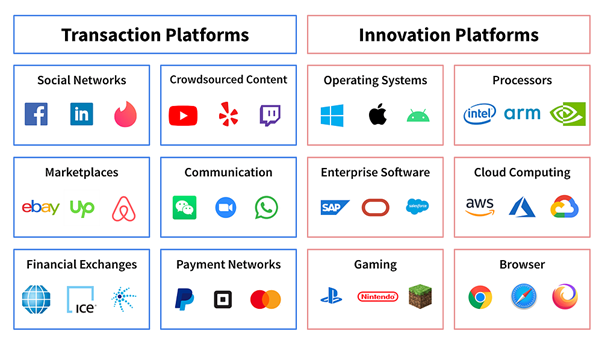 Building a platform business
Developing a platform business model is all about figuring ways to leverage your ecosystem to create high performance operating capabilities that bridge supply and demand within a specific niche.
The better your platform business connects niche solutions to their target audience, the more in demand and successful your platform will be.
Alternatively expressed, by building a platform business model, you can develop a core competency around your operations.
This operational advantage helps your brand become a recognised one-stop shop through which customers and vendors can access modernised supply and demand streams, insights and opportunities for new businesses development.
Success criteria for platform businesses:
Make it easy for vendors and suppliers to understand what it takes to package their product, service and information onto their platform.
Connect products to their target audiences.
Simplify the processes for transactions, distribution logistics, cash collection and governance.
Operate globally and safely while meeting localised regulatory requirements.
Leverage automation and digital to create economies of scale.
When a company starts navigating mergers & acquisitions, and building competencies to eliminate waste, they swiftly realise they have the base elements to transform into a platform company. With this, start a journey to intentionally:
Advance their technology platforms, enabling broader and more efficient ways to transact and maintain business.
Engage in targeted M&A to complement offerings that are packaged and shipped through the acquiring engine's capabilities.
Access economies of scale by re-using processes for go-to-market, order fulfilment, support, and operations leaving the principal risks and costs on the departments that produce the products or services shipped through these delivery pipelines.
You know you are developing and building platform business when your strategy discussions and playbooks are primarily geared towards improving the way you:
Support the exchange of value between your suppliers and customers
Attract new users to your platform
Drive modern experiences that wow customers and makes them want to buy
Attract users back to re-use your platform for additional needs
Leverage bulk to offer cheaper, more accessible transactions to a new targeted base
Strategise and use transactional data to find new ways and initiatives to increase cross-sell rates and utilise bundling to create recommended value offerings wherever relevant.
Develop communities that self-sustain and drive loyalty to your platform
Acquire companies to transform, package solutions and inject them for distribution through your value delivery engines