Have you ever felt confused about the difference in meaning between digitisation and digitalisation? and where they stand in the context of Digital Transformation?
Use this post to understand what these terms mean and how to use them correctly.
Each of these:
Operates at a different level of your organisation.
Have different outcomes and benefits.
Build on each other's outcomes to enable your organisation to extract value by doing more, better, stronger and faster.
Digitisation (Convert)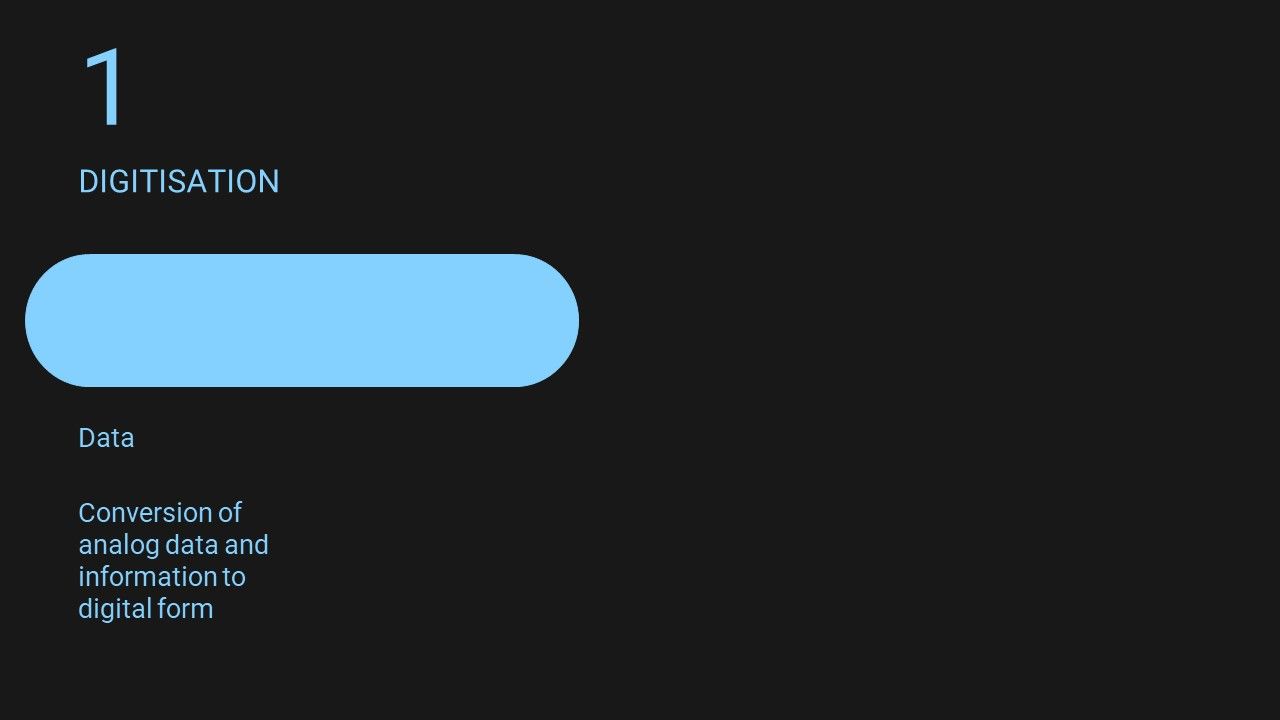 Digitisation deals with the process of taking something that is not digital (e.g. photograph) and creating a digital version of it (e.g. a scanned JPG of that photograph).
The data itself is not changed; it is simply converted from its current form to a digital format that can be processed, stored and transmitted electronically.
If you ever took a photo with your mobile of a whiteboard after a meeting, or a drawing or sketch to send using your mobile messaging system or email, you have involved yourself in digitisation.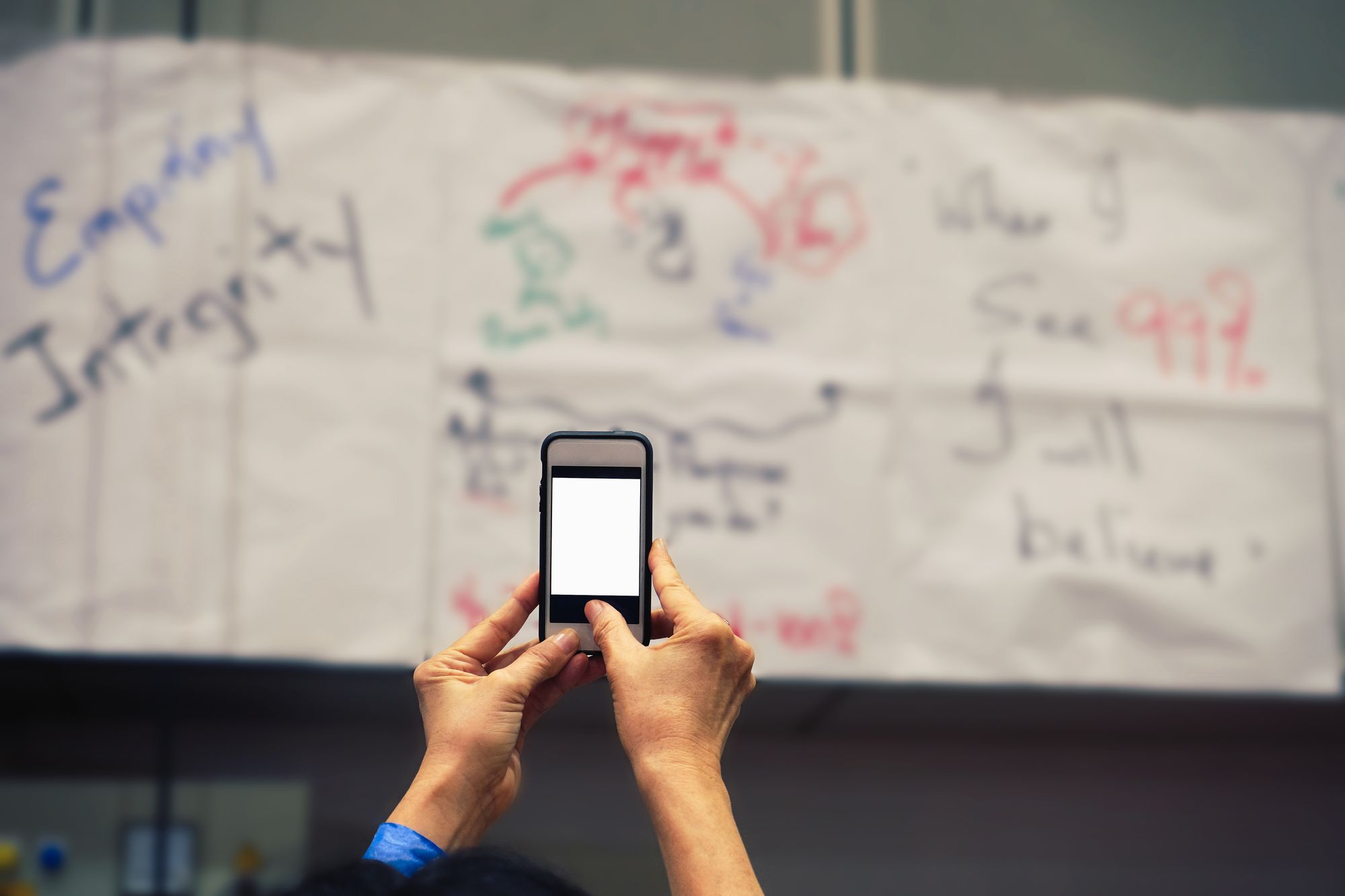 Some examples include:
Scanning a form, health report, historical public record, or other paper documents into digital PDF files.
Capturing a voice message or song into digital MP3 files.
Capturing weather properties such as heat, wind signals and humidity levels; saving readings in a digital record form.
Interpreting handwritten or typed text into a digital format using OCR technology.
Tracking count of steps walked, or stairs climbed in an hour, day, a week etc.
Measuring health vitals such as heartbeat, pressure, glucose levels etc.
High-resolution scanning of artworks and sculptures in 2D and 3D dimensions.
Converting books, brochures and magazines into a digital format such as an eBook.
Converting from old VHS or tape-based media to digital formats such as MP4, MKV, WMV files etc.
Switching from paper-based invoicing to electronic invoicing.

Digitisation simply deals with the conversion of something non-digital and making it available as a digital.
The ability to digitise data has enabled us to:
Capture information that can be communicated more efficiently.
Preserve information, artefacts and knowledge in a format that takes much less physical space and does not degrade over time.
Simplify the process of creating copies and saving them in different locations without impacting the integrity of the original artefact.
Create new immersive experiences for teaching and discovery to share with broader audiences.
Drive more efficient ways of storing, tagging, and archiving information to locate and retrieve when needed.

Digitisation is the foundation on which organisatoins are able to modernise their ways of working, significantly reducing time, cost and physical storage requirements to do their work.
Digitalisation (Transform)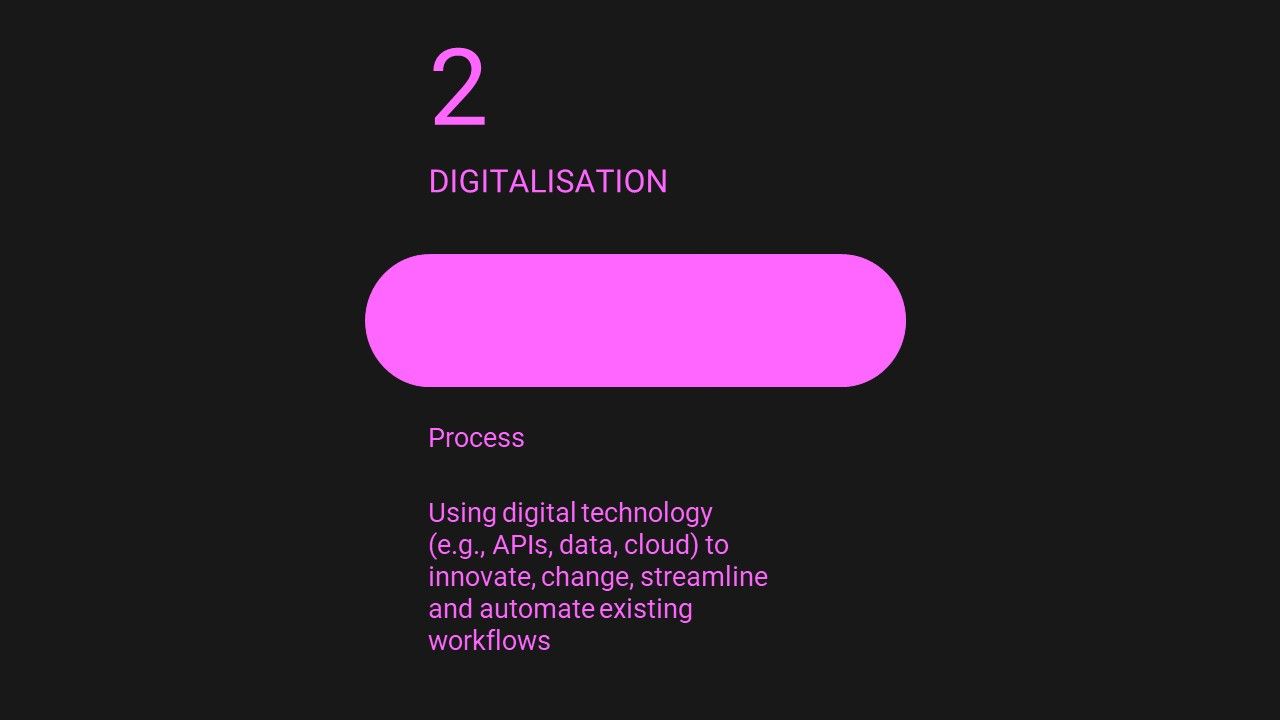 Digitalisation refers to your usage of information technology to
Use digitised information in a meaningful way.
Improve existing processes.
Enable higher levels of productivity and operational efficiencies.
Reduce costs by automating ways of doing things.
Make the data work for you by giving you access to higher levels of knowledge.
Some examples, e.g.:
Commercial departments using eCommerce shopping carts and payment gateways to make it easy for customers to store what they want to buy, complete orders, fulfil payments (e.g. Stripe, Paypal).
Customer Support, Sales and Go-To-Market using Customer Relationship Management (CRM) solutions designed to help keep track and stay close to the interactions and needs of customers, e.g. Salesforce, Dynamics CRM, Pipedrive.
Marketing teams driving higher multi-touch attribution programs through sophisticated Digital advertising and social media marketing mechanisms, e.g. Merkato, Hubspot.
Messaging and support powered by content management systems designed for self-help, making it easy to find customers' answers to questions and queries.
End-to-end usage of digital text, audio and video communication via online mediums, e.g. Zoom, MS Teams and other modern virtual workspaces.
Order processing and finance capturing information directly in digital form within ERP and line of business applications, e.g. using tools like XERO, Quickbooks, SAP and Netsuite etc., for bookkeeping, PO management and invoicing.
HR using a cloud platform to find job candidates and get them through the hiring process, gaining access to progress in real-time (e.g. JazzHR).
Increating value propositions of Hardware + software solutions, e.g.,  using the digitised vitals such as heartbeat signals and glucose levels and more from wearables, to identify people at higher risk of heart attacks or other abnormalities.
Capturing non-digital things into digital equivalents (Digitization) has enabled us to modernise work systems and collaborate with a broader audience.
If digitisation focuses on converting data, digitalisation deals with the transformation capabilities of using digital technology to collect and use data to make better and faster business decisions.
Using another example, Museums are digitising their collections and findings using high-resolution 2D, and 3D digital formats to then use this data to digitalise their abilities to share their art and environments with broader audiences visiting on-site and from remote.
What does this mean for you?
A large portion of users today are savvy digital users. They are also heavily enabled by their access to modern mobile technologies and comfort in using cloud services such as Google Suite, Office 365, banking and payment systems for work, and other social platforms for entertainment.
Recent global health events accelerated the pace and scope of digital acceptance. Using an example, it drove the accelerated mass adoption of virtual communication tooling (e.g. Zoom/MS Teams/Google Meet). It also drove similar outcomes for telecommuting and telehealth.
Organisations that want to stay relevant and meaningful to their markets need to ensure they embrace digital platforms and new ways of working to thrive and evolve.  There are new customer demands and expectations to deal with. New environments to manage and interact with.
The digitalisation of business processes and usage of digital capabilities to drive human interactions form the foundation of a digital business. They allow us to connect, learn and operate faster. When used across the various aspects of the company, they enable the entire organisational areas to work better, connect with stakeholders and build stronger partnerships.
On your journey to become a digital business, you must understand how you can:
Benefit from modern practices.
Advance by appropriately leveraging digitisation and digitalisation across all facets of your organisation.
This is where Digital Transformation comes in.
Digital Transformation (Business)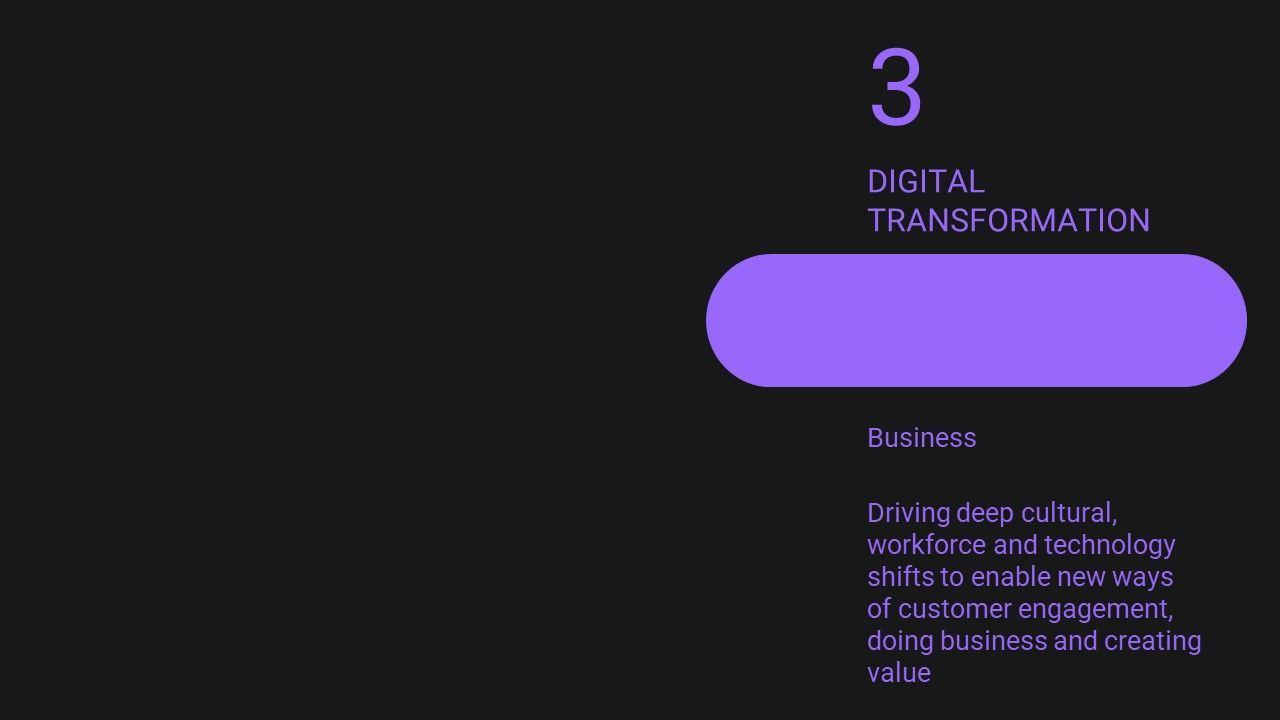 Digital transformation deals with organisations' journey to improve, mature, and grow their holistic digital capabilities to create new value and opportunities.
It is about
Taking existing business processes and workflows and re-orienting them towards new digital practices and opportunities.
Transforming your entire organisation to cope with current opportunities and future challenges caused by digital technologies.
Digitalisation at scale, generally across the entire organisation.
Driving new value towards in developing your business assets.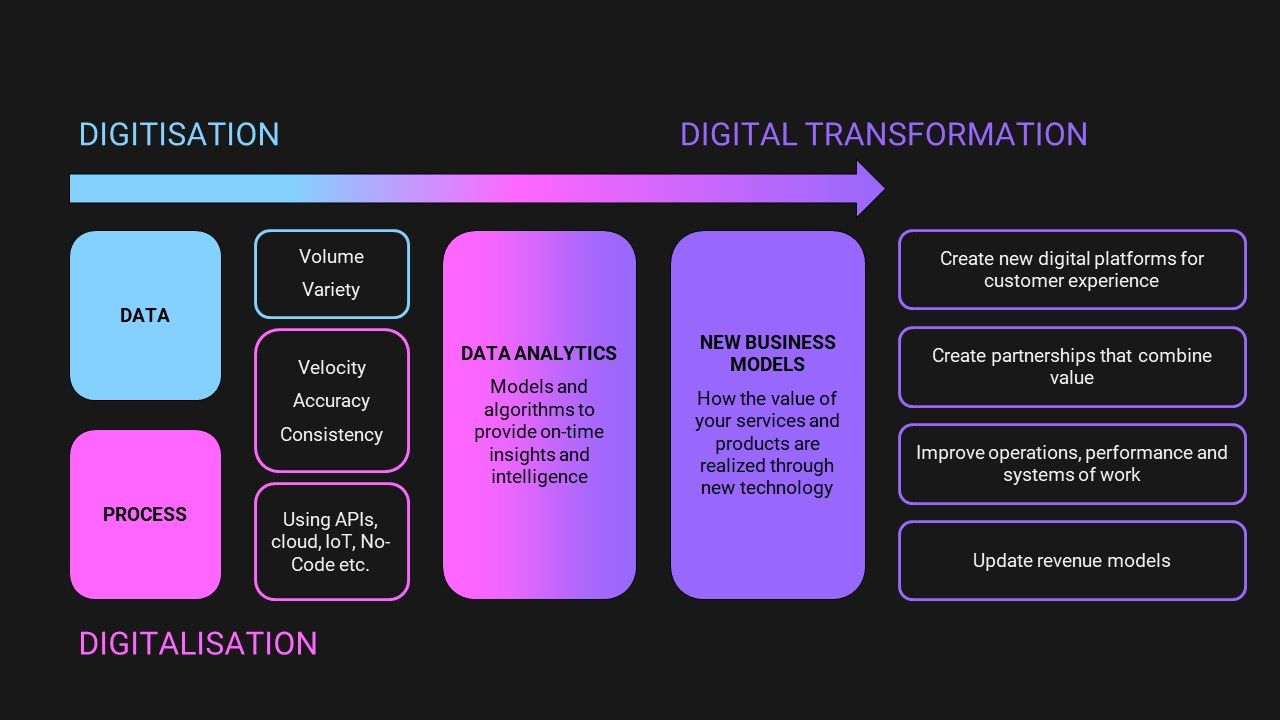 Digital Transformation deals with the following:
Elimination of information silos of data spread across different departments.
Minimisation of friction points customers and partners have to engage with your business through technology.
Migrating a company away from many different software and technologies and unifying under a new common platform.
Introduction of new technological, company-wide undertakings that have never been seen before by the organisation or market.
This wide-view spans:
Re-imagining business models to align to modern markets, expectations and ways of transacting business.
Go-to-market, pricing & promotion strategies.
Customer engagement & experience in finding, trialling and purchasing continued usage of products/services.
Leveraging data to create insights and intelligence that drive growth and investment strategies, optimise operations, manage risk and improve decisions. E.g. identifying which regions and demographic cohorts are most likely to buy sister or adjacent products or what products are most likely to be of interest throughout different months of the year or time of day.
Continued digitalisation and automation of processes to drive better processes and decision support systems.
Summary
In summary, we can view this as a structured table:
Digitisation
Digitalisation
Digital Transformation
Goal
Encode Data
Transform data into usable and actionable information
Create digital-first and people-first environments
Objective
Capture data in a format that can be searched for and used digitally
Automate and improve existing business capabilities, workflows and processes
Transform work cultures
Modernise and ship higher-value propositions
Activity
Convert objects or data from analog format to digital format
Modernise individual workflows end-to-end
Integrate digital work processes across your and partner organisations
Tools
Digital camera, scanner, microphone, audio recorder or other digital conversion equipment
IT Systems, IoT technologies, applications and tooling
Robotic Process Automation (RPA), Cognitive Intelligence and Artificial Intelligence (AI) etc.
Challenges
Volume
Accessibility
State/condition
Equipment limitations
Cost
Internal resistance to change
Cost
Internal and External resistance to change
Staying relevant in the market
Example
Museums scanning their collections and findings into 2D and 3D digital formats
Sharing art and environments to discover with broader audiences (on-site and visiting remote)
Entirely electronic experiences, from the moment of registration to accessing partnership venues to discovery and exploration across multiverses.
Wrapping up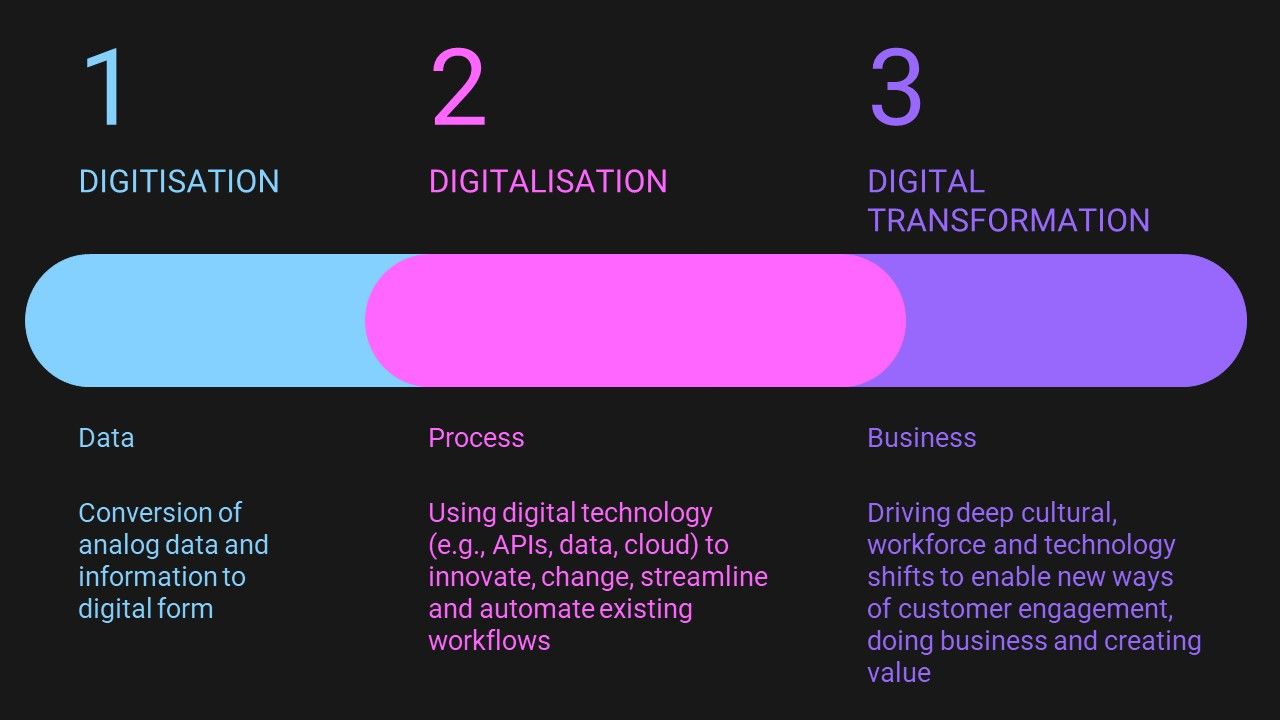 The digitisation of data and information acts as the basis of all we do in this modern world.
While digitisation is more about systems of record, digitalisation deals with systems of engagement, creating insight and improving processes and workflows.
Digital transformation is about creating a digitally enabled society and business. It is about thinking big and embracing change with technology at its core. It's about understanding needs, wants and abilities to use digitalisation at scale to drive modernised interactions with each other across all business stakeholders.
I hope this article has enriched your vocabulary and enhanced your ability in knowing the difference between the meaning across these terms.