We live in a digital society with increasing reliance on technology for:
Every day chores
Social connectivity
Communication and Engagement
Collaboration, productivity and work
Learning
Entertainment
Information Storage
Navigation and mapping
Intelligence and warfare
Banking and finance
Mobile and cloud technologies, data, and the Internet of Things offer businesses unlimited opportunities to modernise, drive growth, and improve lives and efficiency in many areas, including healthcare, transportation, energy, agriculture, manufacturing, and retail.
As we covered in "Top security risks of digital transformation", it also makes us vulnerable to the ever-evolving cyber-attacks that seek to:
Defraud
Extort
Exploit
Steal information
Damage or disrupt
However, Cyber and Technology risk is only one of twelve key risk areas you need to manage to reduce surprises, survive, and succeed.
Defining risk
A risk to an organisation can be defined as a potential of hazard or adverse reaction, that when manifested can destroy or cause serious damage that is costly and time consuming to repair and recover.
Risk management intends to equip stakeholders with the awareness and knowledge to:
Identify incidents that can negatively impact your ability to advance financially, operationally or reputationally.
Analyse situations and make decisions.
Form models of work to accept or take action to address, reduce or eliminate the risk.
When organisations take the time to consider and plan for potential dangers, they can work to prevent them; or protect themselves.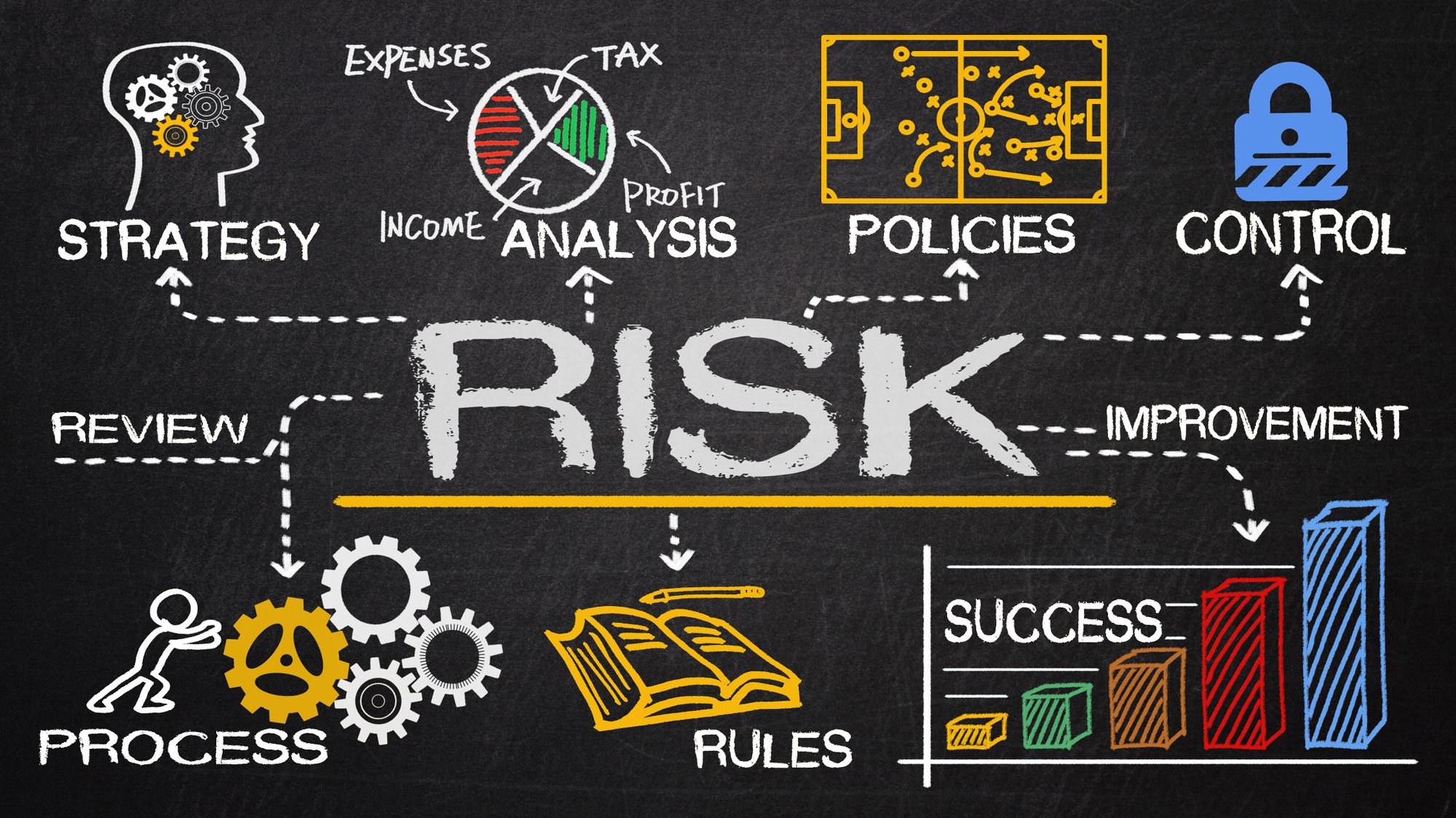 Risk for the business
Put simply, risk is the possibility of loss or inability to advance.
The process of risk management is focused on enabling you to effectively deal with crisis-related challenges while continuing to meet your goals.
Risk needs to be looked at across various dimensions:
Organisational
Solution portfolio
Project or product
Operational systems
Individual
Typical Impact
You can also think of business risks in terms of their impact on the organisation, often manifesting themselves in terms of:
Fines
Legal liabilities
Customer dissatisfaction
Employee turnover
Negative of damaged reputation
Unrealised benefits
Poor user adoption or product/project failure
Overspent budgets, loss of profits and negative financial results
Business failure
The application of risk management approaches allows you to identify your organisations' strengths, weaknesses, opportunities and threats. It also enables you to:
Re-evaluate current plans.
Re-evaluate the technologies you are using to support your desired outcomes.
Engage stakeholders to identify and address unknowns.
Plan for efficiency.
Learn from peers.
Navigate better the journey.
Risk for you as a Digital Leader
When married to an accelerated digital transformation journey, the lack of such considerations either:
Introduce new risks, or
Amplify existing hazards that many fast-moving businesses may overlook.
As Digital Leaders in roles of CEO, C-Level leadership, Executive, Product Management etc., you need to balance and calibrate the:
Intent of the work you are leading.
Way capabilities are acquired or built to achieve the required outcomes.
Impact the work will have across the risk profile of the organisation.
Work capacity allocation towards developing new features, maintaining capabilities, improving work methods, enhancing security and de-risking from failure.
Trade-offs between organisational advancement v.s. ability to maintain operations and keep the lights on.
Risk for stakeholders
No one likes to fail, and no one fails intentionally unless they are trying to be malicious.
Project and operational risks are not uncommon. They generally act as the source of concerns, fears, uncertainties and doubts.
Your ability to identify, understand, frame and talk about risk with stakeholders in their language allows you to show that:
You understand their role within the organisation and what impacts them.
You can focus on specific issues and provide context.
You care about involving them in your decisions.
You are willing to listen, learn and take appropriate actions to minimise the impact of your work on their responsibility areas.  
You are concerned beyond the outcomes required from your team
You are willing to change and make improvements.
Wrapping up
As a digital leader, you are constantly taking intentional actions to reduce the emergence of risks that can negatively impact your ability to advance financially, operationally or reputationally.
In this post we:
Defined risk
What it means to you as a Digital Leader
In "12 risks to navigate as part of your digital work (Part 2)" we
Explore example projects and use cases that you will meet in your Digital Leadership journey.
Touch on the various angles you need to create a risk profile and make informed decisions around the work you are engaging in.
In "12 risks to navigate as part of your digital work (Part 3)" we compartmentalise and explore the 12 types of risk you will meet as a Digital leader.
Use the framing and understanding we explore in this risk series to better your understanding and articulation capabilities around the way businesses:
Talk about the value of work,
Raise concerns and risks around work ongoing across the business.